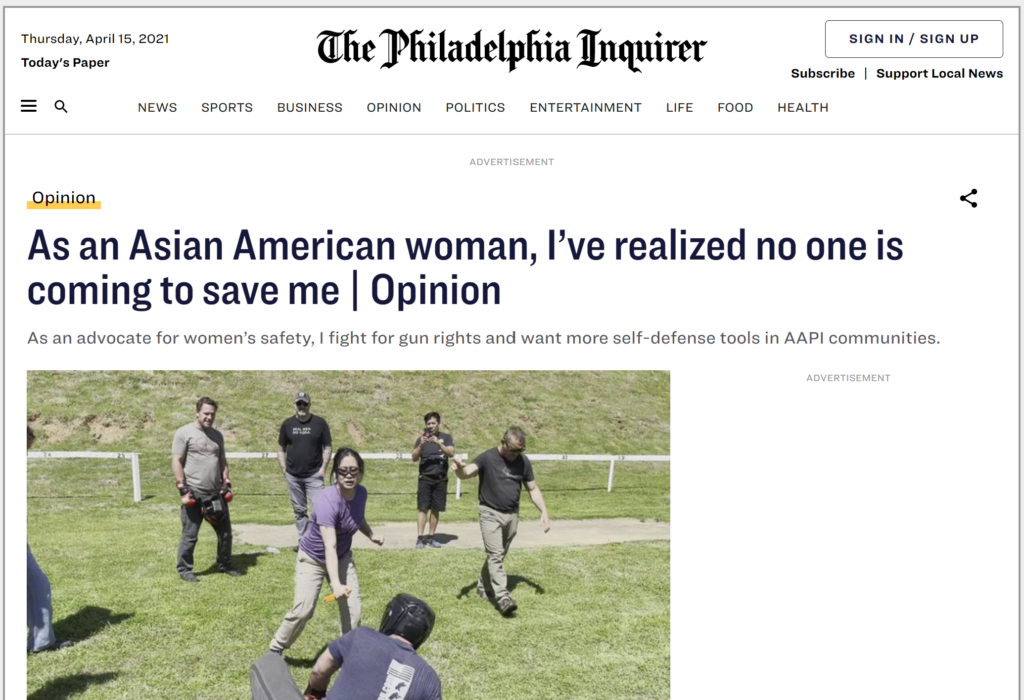 Hi new folks, and welcome back faithful fans! As many of you have seen, I just had an opinion piece published with the Philadelphia Inquirer (it will also be in the Sunday print edition). It's a reflection on part of the journey I've been on, particularly over the last months and year. However, I think that a lot of you will see some commonalities there in what it means to go from feeling safe to understanding that you aren't, but also knowing that you have the power to do something about it.
Let me be clear: I believe that self defense is a human right, and that people of every color and gender may find a need to defend themselves. I also believe that what the threat looks like in reality is different to each of us, and so too is what makes us understand that there is a threat. I speak to experiences that look closer to mine because they are what I understand best, and because I know that "looks like" is important. Last week, I watched a presentation with a number of women who looked like me who were in leadership positions in their companies and was inspired by examples who have broken through the glass ceilings and bamboo ceilings that have cast shadows on my life. I hope that by being who I am and doing what I do, I might inspire others who can see a piece of themselves in me.
As for the specific strategies that I suggest in this article, I've covered many of them in the past here, and will continue to discuss them because they are so very important. Guns can be a key and vital piece of a complete personal safety strategy, but so can so many other tools and techniques. The trick is figuring out which ones aren't – things like personal alarms (when is the last time you paid attention to a car alarm going off?) and stun guns (did you see my InRange TV video yet?). Because even worse than feeling safe out of not recognizing that dangers exist, is feeling safe because of false security from ineffective solutions.
Fortunately, we don't have to settle for the bad ones and can make real, effective efforts towards real, actual security and safety. I'm looking forward to doing that work with you!