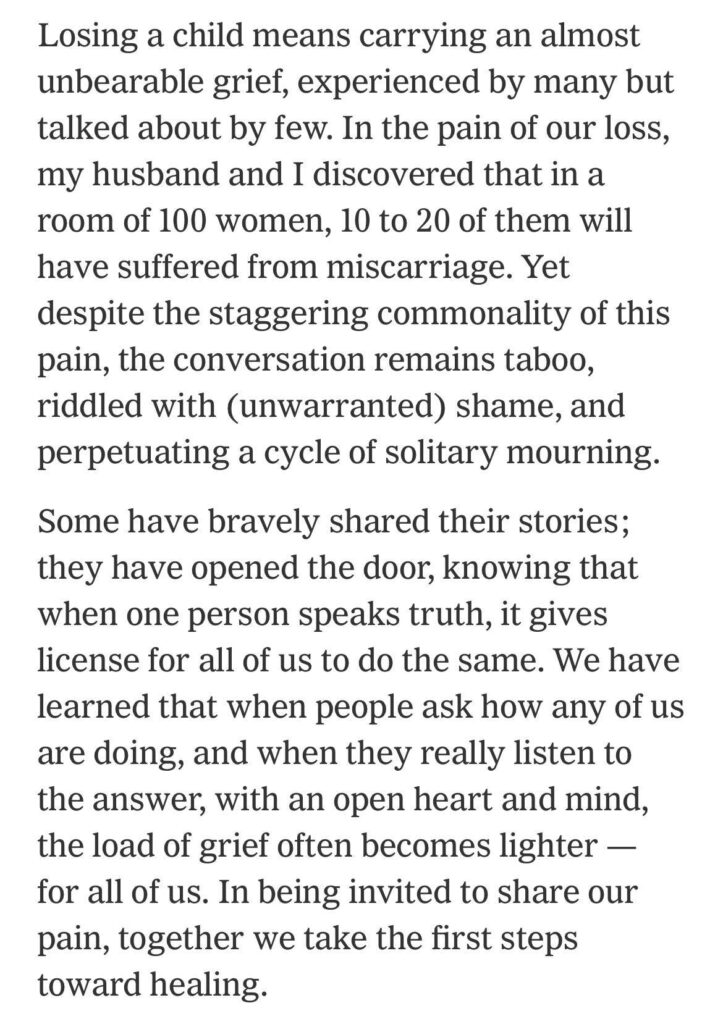 Tomorrow is Thanksgiving here in the United States. The Canadians celebrated it last month and I'm not really sure if there's a completely equivalent holiday in the rest of the world. Either way, it's a day that we really focus on gratitude and on togetherness. It's been a tough year for both.
Many of us have faced loss this year. Citing "2020" is practically a morbid joke when it comes to yet another tragedy, whether personal or global. Even aside from the big events, the losses due to COVID from life to health to money to time, the daily tragedies of everyday life have continued. One that's been talked about maybe more this year than others has been miscarriage. Several high profile women have openly started speaking out about their experiences with it, sharing their raw grief and pain with the world. As they've done so, and as we all have begun to talk more and more about death and other sadnesses, there's been a groundswell of nearly another "me too" movement, as one person after another has shared that they, too, have been affected by those formerly private and shameful life moments. Today's image is from Meghan, Duchess of Sussex, the former Meghan Markle, who disclosed her summer miscarriage this morning. As she reflected on what she went through, she was struck by how grief shared is how "we take the first steps toward healing" and encouraged that all of us check in on each other so that we can share those stories.
Meanwhile, the practice of being grateful for what is going well in our lives is what we're learning to be a way of coping with stress and trauma. It's not about ignoring the bad so much as highlighting the good. It's hard, I know. Wallowing in the pain is easier, and sometimes it's impossible to see the sunlight through the deep, dark forest of the tragedies that surround us. Nevertheless, finding those positives is what allows us to keep going, to have hope that something can go right, to know that where there is one glimmer, another can join it. Because that one, tiny smile, that one, little chuckle is a moment of relief – a sigh before we put our heads down and keep going.
So today, this is what I have for you:
Are you okay?
What are you grateful for?
Me, I'm doing pretty okay today. I'm more okay than I was yesterday.
I'm grateful for you, who have participated in On Her Own and helped make it a reality.
Happy Thanksgiving.