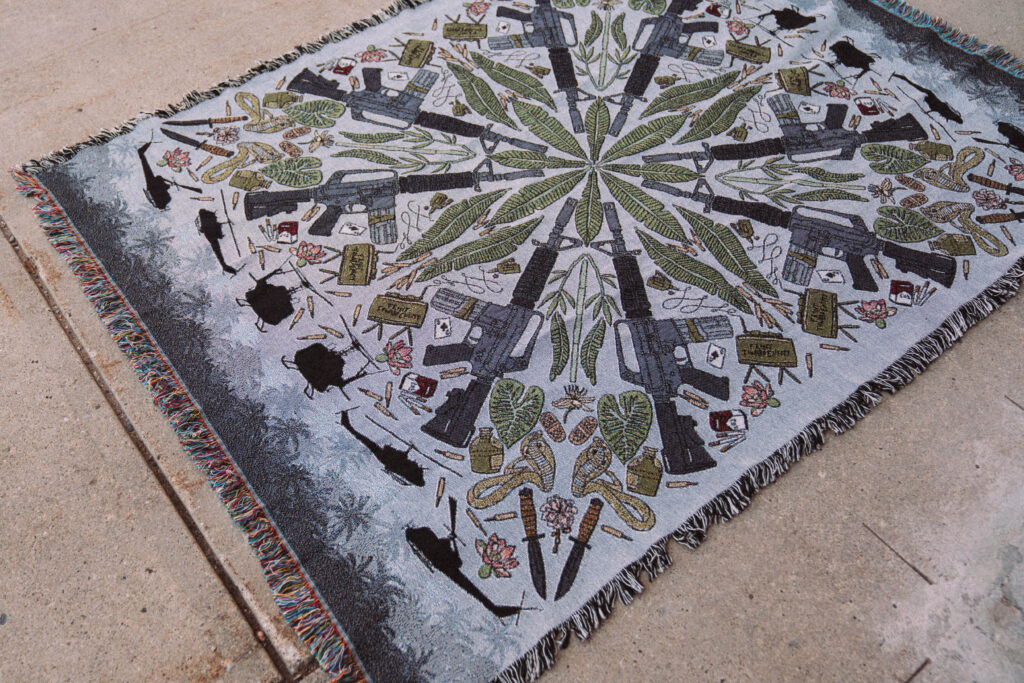 Today, I am extra proud of my friend, Sara Westman of Kitfox Design Group. She's launching pre-orders for a really neat project of hers: the Vietnam Throw. The Vietnam Throw combines her unique style of art with a personal passion and a unique manufacturing process where the design is woven into the blanket itself on European Jacquard looms. The part that I'm excited and proud about, though, is not so much that this is a neat product that I'm going to add to my overflowing blanket collection. It's what it symbolizes: another step into the world of self-determination, another example that any of us can follow.
Those of you who have been following On Her Own for a while may remember me sharing Sara's story about getting a personal protection, or restraining, order against an ex-boyfriend. Kitfox, her illustration and marketing firm, has also been part of her story all along though, and it's one that I think many of us can identify with in some part or another.
She started it as many small businesses start, as a side gig. As she told me:
"I had a couple agency contracts and one corporate position after school. The last corporate position was pretty toxic, and I decided that I was going to work retail and do freelance work on the side until I had enough client work to go solo completely."
Retail isn't fun, but when it fuels leaving a bad environment and the beginnings of independence…it can be worth it. Maybe you've journeyed along the same path, or maybe you're trying to figure yours out. This is one way. Even if you decide not to select a day job based on its ability to get you to a new dream of supporting yourself through your own business, treating your day job as merely supportive of your passions can help divorce you from the treadmill of toxic workplaces.
One of the hardest parts about side gigs and small businesses is that ultimately, you are relying completely on yourself even if you manage to grow enough to hire help. That's one of the core issues we wrangle with here, so I asked Sara how she manages that pressure:
"I've enjoyed being a "solo-entrepreneur" but I enjoy having a team much much more. It's really lonely working completely alone, and that is one of the reasons that I will likely always maintain an office space away from home. Whether it's a co-working space, or a Kitfox office. Which leads me to balance. The balance has taken a long time to find. I have faced plenty of burnout, and still fight it every day. But having a proper office that I can close the door on was probably the best move I could have made for my career. With that came client boundaries — if I'm not in the office, you're not likely to get an email back. If I do not have those boundaries, I will burn out, and that's not good for any of us. I have a lot of people relying on me at any given time.

But quite frankly, despite the stress of working for myself, it doesn't compare to the stress I have always felt while working for other people. My paycheck doesn't rely on whether or not boss man Jimbo and his wife got into a fight last night. My paycheck relies on me and the effort I put into my work on a daily basis. I am far more in control of my income than anyone I know working a nine to five."
Burnout is a consistent theme with, well, life. Even though it's most commonly associated with the stress of having a job, that emotional and physical exhaustion with trying to keep up with your responsibilities as you face ever lower levels of motivation seems to happen with anyone who does any kind of work. I don't know anybody who hasn't at least approached burned out at some point or another.
Working for yourself might be one way to take control, but only if you set boundaries so that your customers don't drive the exhaustion that leads to burnout. Whether you choose to try that, or choose to continue to work for somebody else more directly, the real key is that line you draw so that you get to take actual breaks and live your actual life. I'm guilty of not doing that myself, having taken today off and still spending half an hour on responding to emails and finishing a few simple tasks for my job. So you and me, let's take something from Sara and commit to shutting that door on our work for a bit when we're supposed to be done for today. Maybe we, too, can figure out how we get to this place that Sara describes:
"The day I put that Penske truck in drive, is the day I started advocating for myself and my mental peace both personally and professionally. That overflowed into prioritizing working on projects that inspired me rather than just paid the bills. I stopped taking on projects from toxic clients, and focused on the clients that respected boundaries and my schedule. As far as the future, I am really looking forward to seeing what focusing almost entirely on personal interest driven projects will look like. The beautiful thing about working for myself means I can pivot as needed, and this blanket project has me really hopeful for this next pivot."
You have until midnight Central time on August 9 to order, with throws shipping 4-6 weeks later. Ordering today means special early bird gifts though, so head on over to https://www.kitfoxdesigngroup.com/collections/the-vietnam-collection to order your throw, or one of the accompanying collection items.